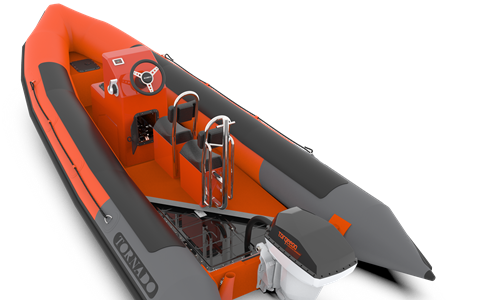 Tornado Boats International has developed a new version of its popular 6.8m RIB that is powered by an electric outboard motor – a move that represents the start of a new range of electric RIBs from the Danish firm.
The RIB was developed in partnership with German company Torqeedo. Called the Coach 6m, the electric RIB is a development of one of Tornado's standard outboard designs and is powered by an 80hp Torqeedo Deep Blue 50R electric outboard. The electric power comes from one of Torqeedo's BMW-based 40kW/hour lithium ion battery packs that is installed below the deck of the RIB in the aft part of the boat.
Lars Hjorth, Tornado Boats owner, says: "I am excited that we are now taking a big step into more sustainable propulsion. This is only the first step and we can, at short notice, supply a wide range of electric boats in sizes from 4m-12m."
The prototype electric RIB is based on the standard 6m RIB from Tornado with a beam of 2.25m and fitted with inflatable polyurethane tubes that are divided into five compartments. A steering console is fitted in the forward section of the boat and in addition to the controls, the control panel and charging point for the battery system are fitted here.
In sea state 2, the maximum speed of the electric RIB with just the driver on board is 34kt. With a full payload of eight persons on board, the maximum speed drops to 28kt, again in sea state 2. These performance figures match many of the expectations of leisure RIB drivers and Tornado expects its electric RIBs to be a significant part of the business in the future.