The Roda 101 from Roda Yachts had its debut at the CNR Yacht Festival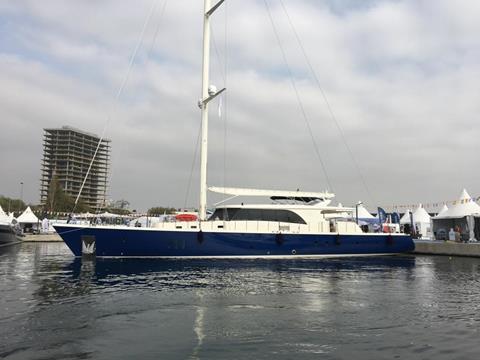 Roda Yachts, based in Bodrum, Turkey, launched its new Roda 101 motorsailor at the CNR Yacht Festival earlier this month. The event was held at Ataköy Mega Yacht Marina in Istanbul from October 16-20.
The 31m Roda 101 has one master cabin, a VIP cabin and two guest cabins. It also has separate accommodation for captain and crew and is equipped with 2 x 610hp Cummins.
With regards to performance, the wood laminate M/S has a speed of 14.5kt without sails and a cruising speed of 11kt.
Ali Çimen, the head designer of the motorsailor, says: "Due to her wooden hull, Roda 101 provides comfortable cruising." He compares the carbon fibre hull with a wooden hull by saying: "Wooden hull beats the waves whereas a fibre hull is beaten by waves at sea."
Yılmaz Dinç and Orhan Dinç, the founders of Roda Yachts, have been in the marine business since 1972 and established Roda in 2011. Orhan Dinç is also head of the Bodrum Chamber Of Shipping.
The Roda shipyard is located in Bodrum and has two separate hangars of 1,000sq m and 800sq m. The company also offers refit and maintenance services.
The shipyard is about to start to the construction of a traditional 35m gulet yacht soon.