The yacht will be delivered to its new owner in the spring/summer of 2020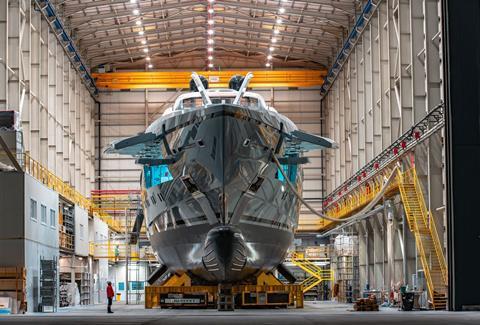 Turkish shipyard Bilgin Yachts has launched its new 80m (263ft) superyacht, Tatiana – the first unit in the company's Bilgin 263 series.
Bilgin started the construction of Tatiana in 2016 after signing an agreement with the client in October 2015. The superyacht will be outfitted and delivered to its new owner in the spring/summer of 2020.
Unique Yacht Design from Turkey was responsible for Tatiana's exterior and naval architecture, while London, UK-based H2 Yacht Design handled the interior.
Bilgin considers the Bilgin 263 series a key milestone in its path towards becoming one of the most prominent superyacht brands in the world. A second 80m yacht in the same series has already been sold and is expected to launch in 2021. Following that, a third model will be delivered to its owner in the same year.
"With her design and comfort elements, the Bilgin 263 is truly one-of-a-kind," says Emrecan Özgün, CEO and founder of Unique Yacht Design. "We created a very attractive yacht with a sleek and sexy profile while avoiding high dosage design clichés.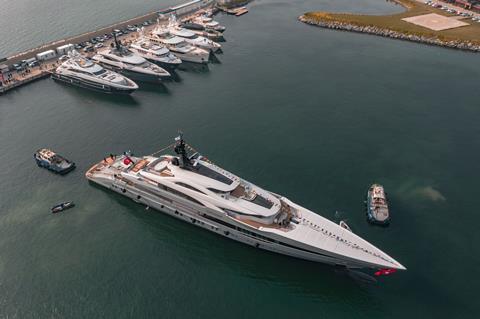 "The increase in living areas normally results in bulky designs. The Bilgin 263 has a design attitude that will dominate the yachting sector around the world. This will clearly make her a trendsetter among steel-aluminium superyachts of today."
According to Jonny Horsfield of H2 Yacht Design, the client is an experienced owner who had a clear concept of this, his biggest yacht. "Tatiana is contemporary in layout with generous salons and a huge spa and beach club aft being a particular highlight," he says. "The theme of the interior is based on a light but rich palette, whilst the design is crisp and contemporary in feel.
"We also brought this philosophy to the exterior decks which closely follow this rich, warm theme. Overall, a stunning interior that complements the modern exterior perfectly."
The Bilgin 263 series has a special exhaust system that provides 100% clean air emissions. With two 2,560kW engines, Tatiana can reach speeds of up to 20kt, while a 12kt cruising speed keeps fuel consumption at 250lt/h.
The yacht is IMO Tier III certified and is considered to be the most environmentally friendly yacht in its class, says Bilgin.