Hull #16 of the A85 and hull #3 of the A105 have been delivered to new owners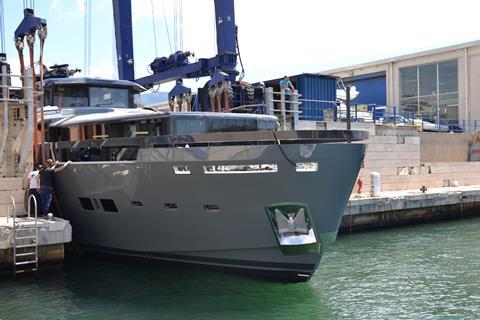 Italy's Arcadia Yachts launched two new yachts last month – hull #16 of the A85 and hull #3 of the A105, confirming its strong market performance and financial strength, the company claims.
Meanwhile, another A105 and a new A85 are now in the assembly shed. Arcadia says it always has an on-spec hull and deck ready for the assembly of every model, in addition to a "ready to sail" model of the A85, SHERPA XL and SHERPA.
Hull #16 of the A85, delivered to an Italian owner, confirms that the domestic market in Italy is increasingly interested in comfort, efficiency and care for the environment. These features are typical of Arcadia, which has already proved very successful in international markets – from northern Europe to south America and the Far East.
Hull #3 of the Arcadia A105 is very different from hull #2, which was presented at the 2018 Cannes Yachting Festival and recently won the World Superyacht Awards in the 'Semi-Displacement or Planing Motor Yachts 30m to 32.9m' category. The judges were impressed by the yacht's close connection with the sea and its focus on eco-sustainability through the use of high-efficiency solar panels.
All of these features can also be found on hull #3, which unlike its predecessor will also be used for charters. It will sail for six months in the Mediterranean and for six months among the Caribbean islands.