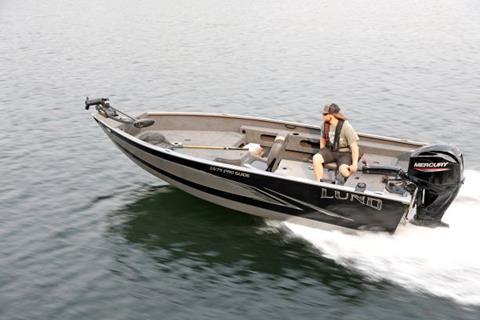 Lund, the US aluminium boat builder, is introducing two new models for 2020 that continue its 70-year tradition of producing tiller-controlled outboard fishing boats.
The 1675 and 1775 Pro Guide are powered by up to 60hp and 70hp, respectively, with an 87in beam and six-person capacity.
The new models feature a twin-plated bow for added durability in rough waters and Lund's patented IPS Hull for the ultimate in performance. The reverse chines on the outside edge and pronounced centre keel deliver precise boat control, while the flat centre pad provides for blazing hole shot and maximum engine performance.
And while a tiller-controlled outboard may seem archaic in a time of fly-by-wire boat control and digital connectivity, many serious freshwater anglers prefer to control the boat from the stern.
"The tiller control allows the angler precise control so they can perfectly stay on their desired spot and ultimately catch more fish," said Lund product manager Rory Wiebe in a company news release. "Even when you're battling the wind, you can make precise adjustments quickly to counter the wind and waves to stay on the fish, plus, the wide-open layout allows for completely free range of movement throughout the boat without anything getting in the way," added Wiebe, who runs a tiller model himself.
The tiller Command Center on the new Pro Guide models keeps everything within reach for the driver including storage of three tackle trays, a dedicated graph mounting area, throw tray, three tool holders and all the gauges easily accessible. The rear livewell is also located right next to the driver and even comes with a bait bucket knock-out area.