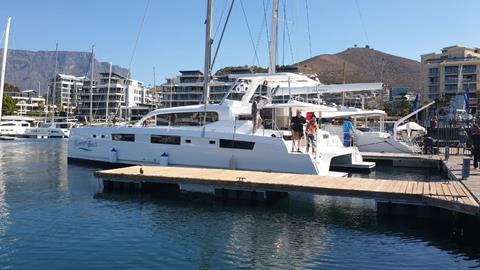 South African catamaran builder Voyage Yachts has launched the first of its new 590 range, the South African Boat Builders Export Council (SABBEX) reports in its latest newsletter.
The new design is geared for the charter market and will join the Voyage Charter fleet in the British Virgin Islands later this year. It is a 17.5m, 12-passenger cruising cat with 2 x 56kW (75hp) engines and a cruising speed of 9kt. The vessel's new owners arrived in Cape Town last week to witness the boat being commissioned in Table Bay.
Voyage Yachts COO Kay Oldenburg told SABBEX the 590 was a milestone build for the 25-year-old Cape Town yard – the first fully 'home-grown' model. "Except for a powerboat we built six years ago, all the others we either took over from another builder, revamped, or modified," Oldenburg said. "This was the first sailing boat to come out from the drawing board all the way to the first launch.
"It has been a long journey from 2018 to now. It is an absolute relief to see it in the water. We went out sailing today for the first time, sea trials with the owner on board, and it all went so smooth. It was a great outing," he said.
Oldenburg says he is optimistic about the new model in light of three 'off-plan' sales last year, even before the first deck was in place.
However, local boatbuilders face economic headwinds this year due to the combined effect of Covid-19 and an economy that has just dipped back into recession following poor economic data published last week. Local producers are also frustrated by ongoing power cuts as struggling state power utility Eskom battles systemic maintenance issues.
On the plus side, Voyage will be hoping to build on the success of its new Voyage 480 hybrid which launched last year amid marketplace interest in hybrid technology.