Italian yacht-builder holds lavish ceremony at its Livorno shipyard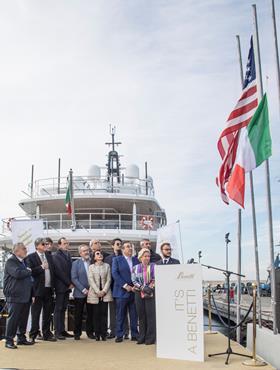 Benetti delivered a 69m full custom superyacht to repeat clients, US couple John and Jeanette Staluppi, at its Livorno shipyard on Monday.
Spectre, which took 750,000 working hours to build, is described by the Italian yard as a "spectacular achievement" and the result of various challenges. Chief among them was to find the perfect balance between sporty allure, high performance and great comfort.
Spectre aims to deliver an extraordinary performance for a yacht of her size. With a steel hull, aluminium superstructure, pool and 'touch and go' helipad, it is the third Benetti superyacht built for the Staluppis in less than 10 years. The exterior lines were designed by Giorgio M Cassetta, while hull lines and naval architecture were done by Mulder Design of the Netherlands.
The main challenge for Cassetta was to create an extremely dynamic yacht with huge volumes, says Benetti. The result is a traditional vessel with a long and sharp bow and extended superstructure volumes that slide towards stern. Huge attention was focused on the connection between exterior line detail and interior design: the outdoor fixed furniture has been designed and custom made to correspond with the interior focus on shiny teak, black lines and steel.
The sporty appearance was achieved by the volume and proportion fluidity, all of which contribute to making Spectre a yacht equal in performance to an aluminium yacht. The contribution and support of Dutch firm Mulder Design, which was responsible for the structural design, the hull and the propulsion system, was hugely important in this achievement. Due to many clever measures the weight of the yacht has been reduced considerably. The maximum speed is 21.2kt – 30% higher than a traditional displacement hull – and the autonomy is equal to 6,500Nm at a considerable speed of 12kt.
Spectre also features Naiad Dynamics Total Ride Control technology, installed for the first time on a yacht of this type. Originally developed by Naiad for commercial and naval ships, thanks to the collaboration with Mulder Design, this technology was later configured to be installed on board Spectre. The active system ensures a significant increase in navigation stability and improved on-board comfort thanks to two roll stabilizing fins, two forward pitch control canards and three independently controlled stern interceptor blades.