Navico has announced that the latest app from its marine cartography brand C-MAP, is now available for free download, providing a powerful bundle of features suited to any kind of boating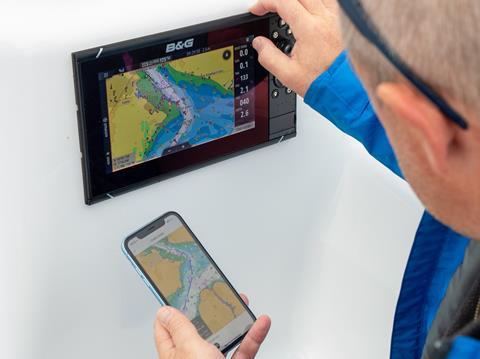 Boaters greatly appreciate being able to use their smartphone or tablet to access and sync charting data with their on board navigation devices, or as a back-up in case of unexpected circumstances.
A good example would be going ashore in the tender, and using the phone as a portable navigation device. Not only would the screen show the waypoints, routes and seabed features to the dock (and help you find the boat again in a darkened anchorage), it also provides thousands of local points of interest.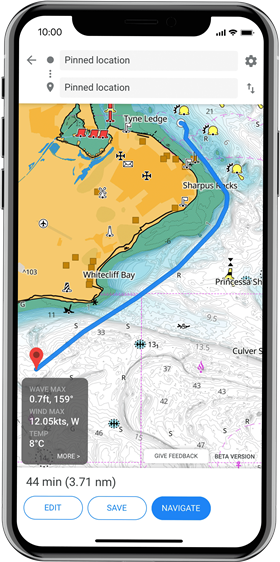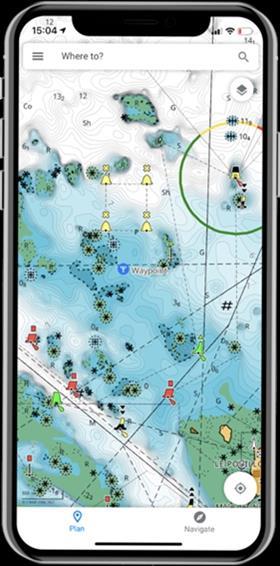 A global leader in digital mapping, Italian-based C-MAP has just released its latest upgrade of the popular C-MAP app. Available in two versions, 'Freemium' (which, as the name suggests, is a powerful tool and subscription-free) and Premium (everything in Freemium plus advanced features on a subscription).
The introduction of the newer Lowrance, Simrad and B&G companion apps – all powered by C-MAP – adds even more versatility to the Navico brands of multi-function displays and chartplotters.
Fundamental to the app is free access for all users, even Fremium, to the latest charts, constantly updated from multiple inputs, including various Hydrographic Offices. These are shown as crisp and clear full colour images which can be optimised for the intended use.
A sea-angler, for example, will usually want a different set of parameters to a day sailor, and would probably opt for the remarkably sharp shaded relief and bathymetric data available in the Premium version. Previously, this could only be found in chartplotters running C-MAP REVEAL products.
In fact, the app is so versatile it can be used for any type of navigation, from a coast-hugging kayaker or paddleboarder to a long-distance cruiser. Because the image is designed to be used on a smaller phone or tablet screen, the data displayed is deliberately uncluttered.
Planning from home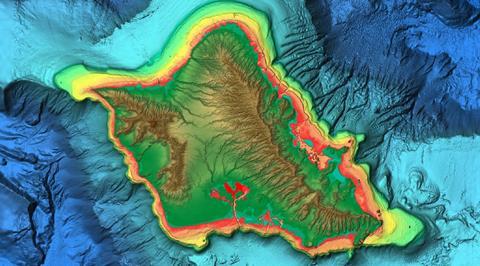 The app allows the owner to plot a route on their mobile device at home from the comfort of their armchair, often whilst researching an area from a pilot book or Google Earth. Once at the boat, they can quickly sync the mobile or tablet with the boat's navigation devices (Lowrance, Simrad and B&G apps) to upload their passage plan. This means they can cast off and start cruising almost as soon as they arrive, important if time or daylight is short.
During the trip, the owner can enter their favourite anchorages, fishing spots or beaches as they are discovered, and leave a 'breadcrumb' trail to find the route back safely whatever the visibility.
The app is also packed with other 'points of interest' features, which can range from fuel stations and harbours to tourist attractions and geographical features. This data can all be personalised to suit the type of boating enjoyed – and the designers have ensured it is intuitive to access and use.
Going Premium
For those who want even more functionality, including GPS position and full navigation – perhaps to use as a direct replacement for a chart plotter – the Premium version builds on the Freemium platform but adds features that will be welcomed by serious boaters. These include AIS (Automatic Identification System), C-MAP Traffic and high-res bathymetry, and full navigation functionality with GPS positioning.
A 5-day weather forecast can be overlaid along the route, and the Premium package also provides Custom Depth Shading, which makes seabed and riverbed features stand out – a great tool for anglers and ideal for all boaters who take comfort in having a clear view of when they are approaching shallow waters. Global Shaded Relief brings the world beneath the boat to life, with a 3D-like view.
A full comparison of the two app versions can be seen in the panel below.
| FREE FOR ALL USERS | PREMIUM FEATURES |
| --- | --- |
| View the latest nautical charts | GPS Position & Full Navigation |
| Manual and Autorouting™ | Unlimited Offline Maps (Global) |
| Add Personal Routes & Record Tracks | 5-Day Weather Along the Route |
| Add Personal Waypoints | 5-Day Weather Overlay |
| GPX Import & Export | High-Resolution Bathymetry |
| Thousands of Points of Interest | Custom Depth Shading |
| Marine Weather Forecast | AIS |
| Weather Along the Route (24 hours) | C-MAP Traffic: View other App users |
| Chart Personalization | Shaded Relief |
| Measure Distance Tool | Coming Soon: Anchor Alert |
Commenting on the new features, Max Cecchini, Executive Vice President C-MAP, said "The latest release of our C-MAP app has the highest-quality marine maps available with a best-in-class user experience. It is already one of the highest-rated marine navigation and planning App's out there, as our customers love its ease of use and accuracy. Now, with new features and a really compelling Premium offering, we're confident we'll welcome even more happy boaters to the C-MAP community."
To learn more about the specific apps for Lowrance, Simrad and B&G, click on the respective App icons below:
The Marketing View | How to harness an app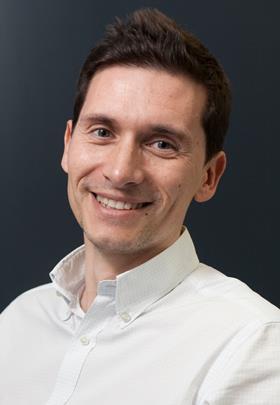 Q. Jake Kavanaugh for IBI: What inspired this app?
Jordi Neves: First, it's important to separate the different app products we are offering. You have the C-MAP App where the fundamental premise is to go beyond the traditional navigation on your multi-functional display (MFD) and support the offboard experience. That includes things like planning and sharing your trip from shore or from the comfort of your home. You can plan something weeks in advance, for example.
At the same time, we are supporting the best of C-MAP's cartography on your smartphone and tablets in order to offer a multi-screen ecosystem. Then you have what we call the 'Companions Apps' for Lowrance, Simrad and B&G. They offer all of the features of the C-MAP App above, plus they extend the hardware value. They do this by opening a direct channel with the consumer that includes registration, customer support, how-to content and software updates for your product from your smartphone, for example
Q: How did you decide between 'Freemium' and Premium features?
A: We want anglers, boaters and sailors to enjoy their planning and really 'relive the moment' experiences as much as possible and that's what we've provided with our freemium version with a lot of features. We only have add-on Premium features that naturally replace an MFD (navigation) and have a third-party cost attached such as extended weather forecasts, AIS, etc. At the annual prices we're offering, it actually happens to be an incredible value.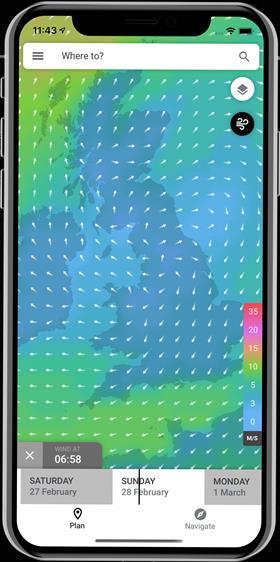 Q. Is it possible to log in to the system remotely?
A: Remote management requires a piece of hardware installed onboard running on low power mode and connected to the cloud. This is covered by a product and subscription we have in the market called BoatConnect. Lowrance, Simrad and B&G Apps allow the user to do route planning at home or automatically download from their home's WiFi the latest software update for the hardware they have registered. When they jump onboard they can sync routes, waypoints, tracks or update their marine electronics without having to be connected to the Internet.
Q: How much did the customer's need to set their own parameters influence the final design?
A: Not much, to be honest. Profiling comes from choosing between a Lowrance, Simrad and B&G App as a first big step. We're customizing each app for the type of boater that primarily fit those brands. Then based on your activity and products registered, we offer customized content and suggestions for anglers, cruisers, sailors as well as regional and national tips and points of interest, for example.
Q: If customers can simply keep on updating and refining existing models via software, is there still a market for new equipment?
A: Brand loyalty is our priority, and our brand's promise is to continuously extend the value of our hardware via software updates. We see shorter hardware replacements cycles not pushed by manufacturers but rather consumer demanding smarter products and more assisted features that might come from machine learning - or multi-screen dashboards both requiring more and more GPU, CPU and memory.
Q: Is an anchor-watch alert 'ping' available?
A: We can only say that this is something that is imminent, including some cool geofencing features. So stay tuned!