Support for recreational boating programs funded by Vancouver International Boat Show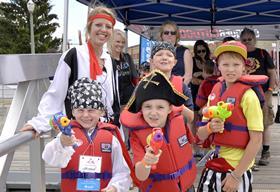 Vancouver, Canada-based marine trade association Boating BC has announced that it is now accepting applications for its 2019 grant and scholarship program in support of projects to grow boating participation within the province.
Launched three years ago, Boating BC's grant initiative supports not-for-profit groups by providing funding for capital infrastructure projects and other programs that aim to grow boating participation in British Columbia. Funded by the Vancouver International Boat Show, the program awards grants and sponsorships of up to $2,500 to organisations that facilitate or improve access to boating, deliver boating education programs, or otherwise promote boating interests in BC.
"Part of Boating BC's mandate is to invest in the industry at a grassroots level to promote water safety, improve education or increase participation in the boating lifestyle," said Boating BC president, Don Prittie. "Last year this funding helped support a number of worthwhile initiatives, and we are excited to offer the grant and scholarship program again in 2019."
A total of $21,500 in grants and scholarships were awarded to 2018 funding recipients, including support for 20th Anniversary Boat for Hope events in Vancouver, Victoria and Kelowna, and assisting with the purchase of a sailing simulator for the BC Sailing Association that will be used at community events to promote sailing for children. Additional 2018 grants supported local fisheries initiatives, provided canoes for kids and supported a loaner PDF program for first-time boaters.