The lithium power storage specialist explains how it is achieving a promising pathway to green energy solutions
The lithium battery industry has immense untapped potential for sustainable production and use. BOS Balance of Storage Systems has emerged as a pioneering force in this arena, exceeding industry standards and demonstrating a steadfast commitment to environmental responsibility and innovative energy storage solutions.
Benjamin Seckinger, CEO of BOS, passionately declares: "Battery manufacturers need to face the responsibility they have. At BOS we're not just creating better products; we're pioneering better processes to improve the entire life cycle. We want to inspire others to follow and are actively looking for partners and customers who share that vision."
This concept of a circular economy was fully implemented in the new BOS battery S. It uses recycled plastics in the material of the case. The lithium cells are protected to increase their longevity. Every component is accessible and exchangeable to enable repair.
Beyond that the BOS battery S was designed to serve more than one application. Soon this concept will enable users to de-rig and reinstall the battery with ease, from their boat into another application. This will ensure that they are no longer forced to buy several batteries for different use cases – nor are they bound to seasonal use only. "This makes the introduction of the BOS battery S much more than just a product innovation," Seckinger continues. "We see it as a decisive step towards greater battery sustainability."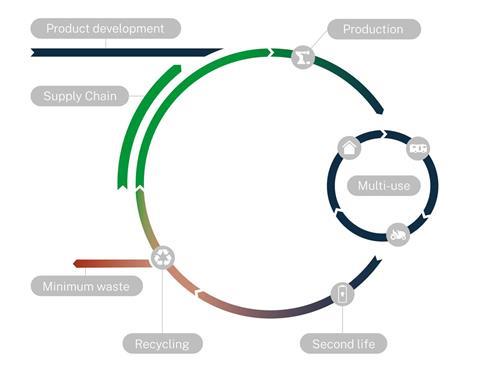 Giving products a second life
BOS gives used batteries a second life in less demanding applications. After approximately 3000 full cycles, the BOS battery S has a remaining capacity of about 80 per cent, which is more than sufficient for a second life in several less demanding applications such as solar systems – including energy storage.
At the end of life, BOS intends to bring the batteries into recycling. Product data supervision and highest overall quality standards are the basis for success of this endeavour.
Company Profile

BOS Balance of Storage Systems AG is an innovative developer and manufacturer of Lithium energy storage systems that are used in a variety of sectors: boating, industrial, recreational vehicles, and many more. The LE300 has proven to be a popular product in the boating sector. The Lithium extension battery is a space-efficient way to upgrade existing lead-acid battery systems. It is not only a success in boating but also in camping vehicles. Thanks to BOS AG's cooperation with Europe's biggest motorhome manufacturer Erwin Hymer Group, more than 80 000 modules have been sold to-date.
When founding the BOS AG in 2014, the main goal was to bring forth the power supply in emerging countries. This is how the company became an expert in the off-grid sector. Until this day, it remains an important activity within the business.
Taking sustainability seriously
"In all our endeavours, we focus on creating a circular economy by using lithium batteries for a second time, that would otherwise be discarded. Our pre-owned batteries are suitable for less demanding applications. Often enabling energy independence in social projects and developing countries," explains CEO Benjamin Seckinger. "By designing them to be fully recyclable, we can drastically reduce the waste of the valuable resources used."
This multi-use and multi-life approach is a core element of BOS's circular economy strategy. The company has successfully participated in a program for the economy of the common good and is implementing more and more measurements into its product lifecycle and daily habits.
Now, the goal is to find partners who share BOS's vision and are open to new ideas and business models.
Contact info:
Tel: +49 731 72544107
Email: contact@BOS-ag.com
Web: www.BOS-ag.com