If you are registered for the interactive edition of IBI magazine,
click here to view the current issue now.
If you are not subscribed already, REGISTER NOW to sign-up for your complimentary copy of IBI magazine, in print or digital format.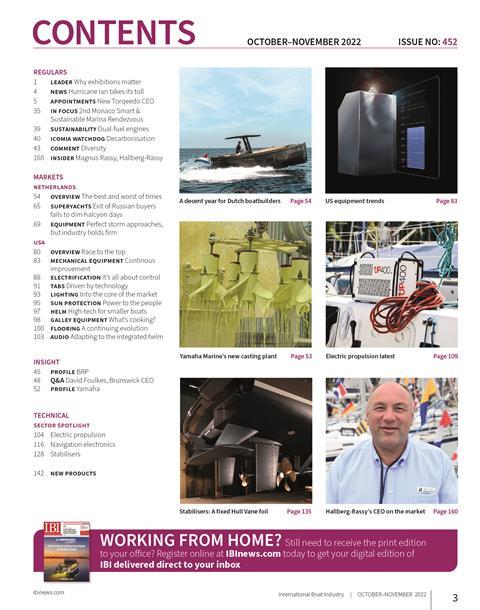 Editor's Comment>> In a digital age, it's worth reminder
about the benefits of physical shows
ON THE EVE of the 2022 edition of the all-encompassing METSTRADE in Amsterdam, it is worth reflecting on the turmoil within the exhibition industry of the last two years. By IBI's reckoning, the industry lost 123 of its major boat shows worldwide and many more regional ones between January 2020 and May 2022.
The venue owners and event organisers suffered large declines in revenue, and exhibitors will never know how much potential business evaporated due to the absence of physical shows compared to the alternative marketing options they employed to compensate for the lack of direct face-to-face interaction with customers.
The past few months have seen a resurgence of shows across the globe with receptive, appreciative audiences and for the most part were satisfied exhibitors. So in a digital age it is worth reminding ourselves, as we embark on the largest b2b leisure marine event of the year, why physical exhibitions are regaining their pre-pandemic influence and stature.
The attractions to visitors of attending a physical exhibition in the b2b arena, such as METSTRADE, are numerous: They go to see the latest innovations in their respective fields and to negotiate and make purchasing decisions; They go to learn from the associated conferences and technical or market forums; The go to see what their competitors or other companies are doing; They go for marketing objectives and human resource opportunities; They go because, as in METSTRADE's case, the venue is often in a great city or other attractive location. Above all, visitors attend because they really value meeting their peers and being part of this dynamic industry.
IBI will be in a new location at METSTRADE 2022,
Stand EL-404 in the Elicium Hall… drop by to share
your company's latest developments, or discuss
promotional opportunities we can provide.
IBI will be in Amsterdam again as we have been every years since the show's launch in 1987. We welcome visitors to our stand to sign-up for the magazine and our daily industry leading newsletter, to talk about your company's latest developments and to discuss the promotional opportunities we can provide. The IBI Newsroom, next to the IBI stand will as always, be a beehive of activity – be sure to drop by with your news and we'll do our best to feature you in the METSTRADE Daily newspaper that will be available each morning at the main entrance to the show and sent digitally with our daily newsletter to over 22,000 industry readers around the globe.
This year we have a new location in the Elicium Hall alongside the main corridor connecting halls 1-5 with halls 10-12 and next to the DAME award winners and the Boat Builder Awards displays. It is also home to the E-LAB Electric & Hybrid Showcase and the adjacent METSTRADE Theatre where I'll be involved with the Electric & Hybrid TechTalks alonside Christoph Ballin, the founder of Torqueedo. (To get some pre-show insight, be sure to read Jake Kavanagh's brilliant review of the sector in this issue, p104.).
My interviews with the Breakfast Briefing keynote speaker, electric aircraft visionary Cory Combs, along with DAME winners and the industry pioneers we'll be celebrating at the IBI-METSTRADE Boat Builder Awards, will take place on the same stage.
Make sure you grab a ticket to this year's Boat Builder Awards, held in association with Raymarine, on Tuesday evening at the stunning National Maritime Industry (only a limited number remained at the time of going to press.) It's going to be a brilliant night. For the full awards shortlist and further details, see pg28-33.
Come and find us at stand EL-404 to share your news and views or simply to say hello. It's going to be a show to remember.
… And for your advance planning, see the 2022 METSTRADE floorplan, published by IBI.

Ed Slack | IBI Editor
Click below to read the issue online and don't miss the videos embedded throughout the magazine.
If you are already registered on ibinews.com and qualified to receive a digital version of IBI free of charge, CLICK HERE to view the current issue.