Proposed federal luxury tax commands full attention at NMMA Canada's annual state-of-the-industry event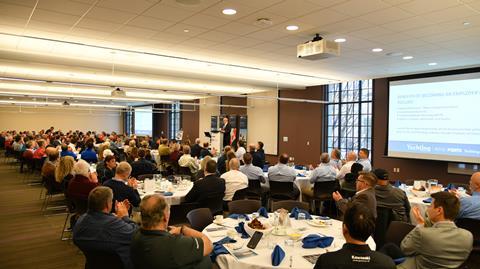 It was a full house at the Beanfield Centre on the Toronto waterfront Tuesday morning as NMMA Canada presented its annual Industry Breakfast at the Toronto International Boat Show.
More than 200 industry representatives attended the event, held immediately before the show opening. A packed agenda included a presentation by Boating Industry Canada editor Andy Adams on Canada's changing demographic landscape, an update on the US market by NMMA president Frank Hugelmeyer, and an update from NMMA Canada president Sara Anghel on the organisation's recent advocacy activity on behalf of the industry. That includes recent, coordinated efforts with regional marine trade associations nationwide to thwart a proposed luxury tax on new boats, automobiles and aircraft priced at more than C$100,000 that has been proposed by Canada's newly re-elected Liberal government.
"Luxury taxes have failed all over the world, including the United States, Italy, Norway and New Zealand as consumers simply diverted their spending to other forms of recreation," said Anghel. "This is a priority action item for all of us in the boating industry."
Keynote speaker Nick Bennenbroek, managing director and head of currency strategy for Wells Fargo Securities, then provided a thought-provoking discussion on Canada's current economic climate and its likely impacts on exchange rates as related to both import and export trade. The breakfast agenda also included NMMA Canada's annual general meeting and the presentation of the organisation's 2020 Canadian Boating Hall of Fame Award, which was presented to yacht designer and international safety standards inspector Michael Vollmer.
The Toronto International Boat Show runs through Sunday at the Enercare Centre on the Toronto waterfront.