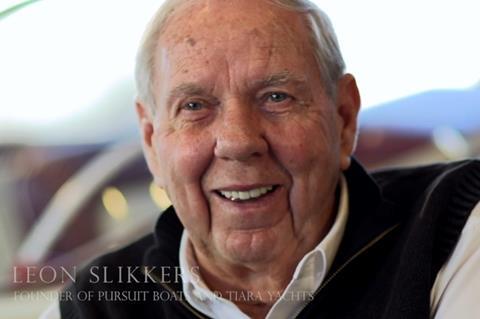 An abundance of passion, innovation and new talent were recognized last night at the seventh annual Boat Builder Awards for Business Achievement, organised by IBI Magazine and METSTRADE, in association with Raymarine.
The night's top honour – the Lifetime Achievement Award – went to Leon Slikkers, who at the age of 93 only retired from boat building a few months ago, after starting, nurturing and developing the business which continues to flourish as a family-run company.
"Without our father's vision, passion and unwavering entrepreneurial drive over many decades, this company, its rich history, and all that's been accomplished would not have been possible," said Tom Slikkers, President and CEO of Tiara Yachts, accepting the award on his father's behalf in Amsterdam last night. "He has devoted his life to this business and the Tiara brand will continue to carry on his legacy. As a nautical legend, this is well-deserved."
Attendees heard from Sleipner's Ronny Skauen, sponsor of the Lifetime award, IBI Chairman Nick Hopkinson, and Tom Slikkers about Leon's extraordinary level of commitment to building the best possible boat. The audience also heard from Leon himself via video.
"I had a vision… I think you live that vision and radiate that vision to other people."

Leon Slikkers
Leon's tale has become part of industry legend: In the mid-1950s, he sold his home for some $5,000 to fund his vision and passion to run his own business, leaving him without the security of a home or job for a time while he started Slickcraft Boat Company to build mahogany runabouts. He soon became an early adopter of fiberglass construction, and founded his second company, S2 Yachts, while complying with a non-compete clause after selling Slickcraft to American Machine Corporation (AMC) in 1969. With S2 Yacht's expansion into powerboats, Tiara Yachts was born, followed by Pursuit Boats.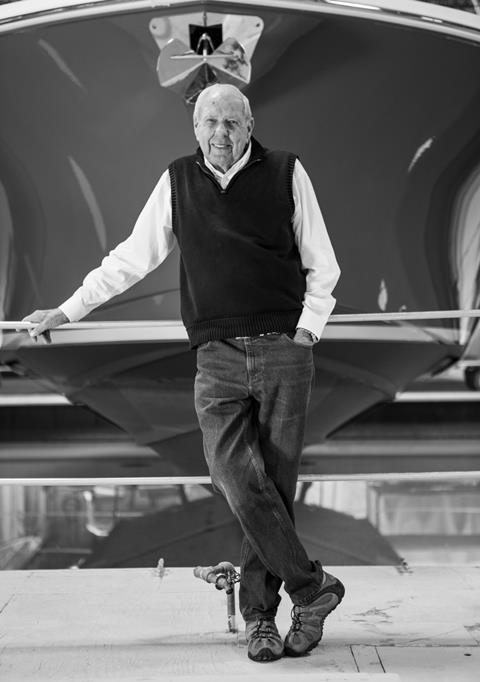 Tom took up the baton in 2012 as CEO of Tiara, but Leon remained actively involved in the business, coming into the factory every day until he finally retired this September, aged 93 – to spend more time on his other passion – long distance cycling. Today the company is heralded as one of the oldest privately held boat manufacturers in the United States, with a range of best-selling inboard luxury Open and Coupe models ranging from 39 to 53 feet.
Tom has remarked on how the business had a humble beginning and recalls growing up with his brothers getting their fingers sticking with wet varnish. Anchored by those roots, he notes the company is still striving. "Most businesses want to grow… we want to grow, but we don't want to grow to be the biggest," he commented in an interview following the awards. "We want to grow in the context of high quality and integrity."
He said he was also encouraged to see the Awards' emphasis on Rising Stars to encourage new talent in the industry. "I'm particularly glad to see recognition of the up and comers… I think that's important for a lot of reasons," he noted. "I know we need to cultivate that young, youthful spirit, and having this kind of program is one of the ways we can keep it alive and recognise the kind of work [behind the scenes] that doesn't normally get seen."
That sentiment was echoed by messages from industry leaders across the globe acknowledging the importance of encouraging the next generation of visionaries, which prefaced the announcement of this year's Rising Star winner by IBI's Ed Slack together with Lumishore's Eifrion Evans, sponsor of the category.
The Rising Star honour went to Marko Škrbin, Marine Division Director at Elan Yachts. As this year's recipient, Marko was praised for his transformative work at Elan Yachts during a rapid ascent through the ranks and appointment as the company's youngest ever divisional director.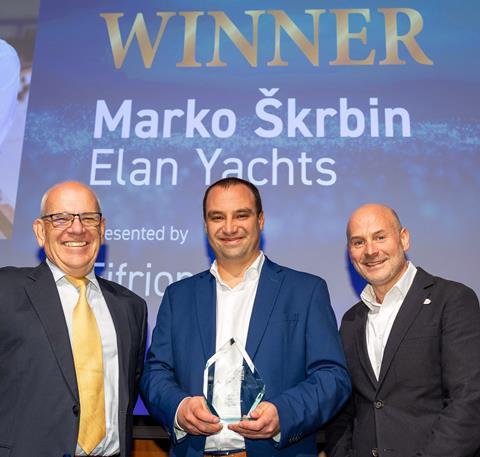 Joining the company as a passionate sailor, he was recognised as instrumental in making transformative changes to the business, involving the development of new yachts, changes to the financial structure, introduction of new systems and repositioning of the marque. He believes strongly in the power of teams, improvement in working conditions and empowerment of employees."
To see interviews with Tom Slikkers and Marko Skrbin, as well as other highlights of the 2021 Boat Builder Awards, click on the video above.