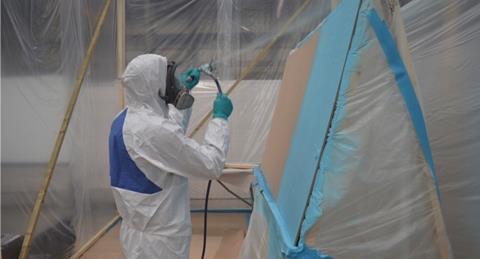 AkzoNobel has developed a spray filler technology that greatly accelerates a yacht paint job by using a pressurised airless spray.
The Dutch coatings giant speaks of a 'breakthrough innovation' that makes wet-on-wet application possible, so up to two coats per day can be applied without need for sanding inbetween.
Part of the company's Awlgrip range, Awlfair SF is a high-performance filler.
"We're thrilled to introduce Awlfair SF to the yacht coatings market," says Bilal Salahuddin, AkzoNobel's global director for Yacht Coatings. "This is a true step change in the coatings industry which could open up multiple opportunities to boost productivity for our customers."
The Awlgrip brand has been in use in the yachting sector for more than 45 years.
Awlfair SF can be applied evenly at about five liters per minute. AkzoNobel says the filler is perfect for fairing, leveling or smoothing surface imperfections due to gouges, pitting, dents or weld seams.
The spray application eliminates air pockets which the company says leads to "reduced reworking and improved aesthetics".
AkzoNobel has been very active lately in the yachting sector. The launch of its Awlfair SF comes hard on the heels of Awlgrip HDT (High Definition Technology), a repairable single-stage topcoat which gives a mirror-like, long-lasting finish.