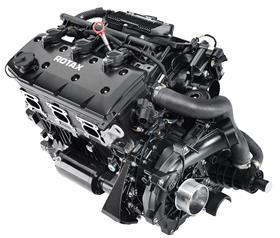 The Rotax ACE (Advanced Combustion Efficiency) 300 from Bombardier Recreational Products (BRP) Marine Group is 9% bigger than the Rotax's next largest engine and creates 15% more power.
Designed with a longer stroke compared to the Rotax 4-TEC 250, the Rotax ACE 300 has a displacement of 1.6 liters and increased efficiency in two key areas: friction reduction and better cooling.
A new protective plasma coating on engine cylinder liners creates a metallic layer that provides a hard and durable surface to withstand piston friction forces, improves surface durability and produces better heat transfer and superior performance.
A reengineered cooling system includes an additional heat exchanger and larger, more efficient engine oil cooler.