Sunseeker and MTU respond to changing trends in boat usage with smarter, more innovative hybrid power system
As visitors to the recent Boot Düsseldorf would have seen, Rolls-Royce and Sunseeker International will be presenting a brand-new hybrid model to the world in 2020. Rolls-Royce control systems are already leading the drive towards remotely-controlled and fully autonomous ships, so are the ideal partners for this type of venture.
The new model will be powered by a pair of MTU 12-cylinder 2000 diesel engines delivering 1,974hp apiece. The hybrid system has already been proven in commercial shipping applications and will be integrated from the outset. It can also be expanded on a modular basis. The installation will allow a large yacht to operate in six different modes, including up to 40 minutes of displacement speed propulsion from each pair of MTU batteries installed. Sunseeker says the project is a response to customer feedback.
"…the focus in the future yacht industry will be more and more on smart and innovative system solutions rather than just focussing on the power output…"
"The way owners are using their boats continues to evolve," said Sean Robertson, sales director at Sunseeker International. "Efficiency and noise reduction are now as important as features and volume, which all contribute to their ultimate purchase decision. This latest hybrid technology will allow owners a choice of multiple operating modes from all-electric with zero emissions through to use of the twin 12-cylinder diesel engines delivering efficient class-leading performance."
Knut Müller, head of marine and government business at MTU, said: "High performance levels, efficiency, environmental compatibility and the flexibility of the propulsion system are of great interest today when operating a yacht. We believe that the focus in the future yacht industry will be more and more on smart and innovative system solutions rather than just focussing on the power output level."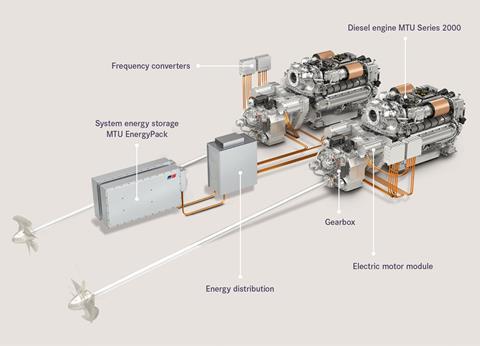 Sunseeker and MTU UK have had a successful working relationship for more than 18 years, with over 1.8 million hp of MTU power installed in yachts with lengths from 20m-47m. As early as 2010, the two companies laid the basis for the hybrid propulsion system in tests that were carried out on a prototype yacht.
MTU's hybrid credentials
Though there are no serial hybrid systems installed yet, MTU has already equipped a number of ships with customer-specific hybrid propulsion systems. For example, Sailing Yacht A, the world's largest sailing yacht which was commissioned in 2017, has been fitted out with an MTU hybrid system. This is a combined diesel-electric propulsion system that offers seven different propulsion modes. When needed, a maximum speed of 21 knots is achieved using the diesel engines and electric motors for a combined power output of close to 16,000 kilowatts; while slow cruising with very low vibration levels and reduced fuel consumption is also possible.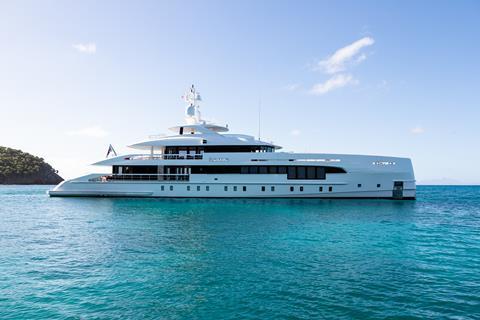 With Home (formerly Project Nova), the Dutch shipyard Heesen Yachts offered customers a 50-metre fast displacement yacht that combines 1,200 kilowatts of diesel power (2 x MTU 12V 2000 M61) with 2 x 110 kilowatts of electrical output. The all-aluminium yacht can travel at a speed of 9 knots on electrical power alone, while offering completely silent cruising.