New electric motors target the premium recreational fishing market with advanced features and electronic integration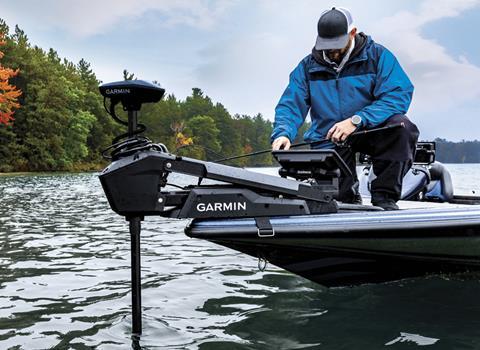 Marine electronics manufacturers Garmin and Lowrance have entered the electric trolling motor market, with both companies unveiling new premium positioning motors at the International Convention of Allied Sportfishing Trades (ICAST) fishing tackle trade show held this week in Orlando, Florida.
Touting advanced designs and the ability to integrate with onboard electronics, both companies are pursuing the premium end of an electric motor market dominated by Johnson Outdoors' MinnKota nameplate and Brunswick's MotorGuide brand.
Introduced on Monday, Garmin's all-new Force motor operates on 24V or 36V systems, and is claimed to be 30% more powerful than existing competitive products. Utilising a brushless motor, it is said to "operate with almost undetectable levels of sonar and steering noise both below and above the water" and includes an integrated transducer designed to work with Garmin's CHIRP and ultra high-definition ClearVü and SideVü scanning sonars.
"As a new player in the trolling motor market, Garmin is dedicated to delivering a motor that's as innovative as it is reliable, yet still whisper quiet," said Dan Bartel, Garmin worldwide vice president of consumer sales. "Not only is the Force trolling motor at the forefront of power and efficiency, its robust, reliable design was built to withstand strenuous use, season after season, and the result is a trolling motor that's second to none."
Additional features include wireless integration with a Garmin chartplotter, and integrated heading sensor and GPS for built-in autopilot functionality. An included wireless foot pedal allows anglers to operate the motor hands-free, while an included floating wireless remote allows operation from anywhere onboard the boat using gestures to set course.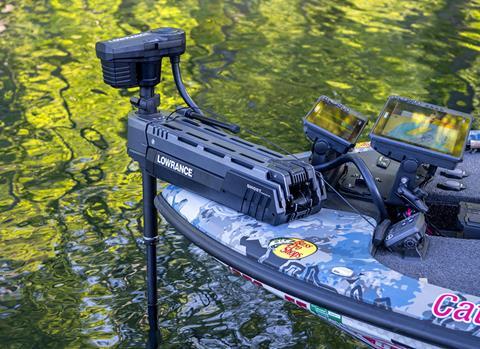 Lowrance's all-new Ghost electric motor also works with 24V or 36V systems and also uses a new brushless motor design. Said to deliver 25% more thrust and 45% longer run times than competing products, it delivers up to 120 pounds of thrust and allows for future battery and charger upgrades.
"Because Ghost is Lowrance's first trolling motor, we started completely from scratch, which gave us a unique opportunity to ask anglers what was most important to them in a trolling motor," said Lucas Steward, Navico's trolling motor product group owner. "To get the quality we needed, we had to design and build it in-house. That resulted in the production of a trolling motor that delivers exactly what our consumers want: the most power, greatest efficiency and quietest performance."
Designed with an eye to durability, Lowrance's features a 360-degree breakaway mount and a composite shaft. The unit offers two integrated sonar nosecone options including HDI and optional Active Imaging 3-in-1 transducers, and the ability to steer, adjust speed, set up route navigation or anchor at a specific location with touchscreen control from a Lowrance display using the company's new SmartSteer interface. The motor pairs with HDS LIVE, HDS Carbon and Elite-Ti2 displays with an NMEA 2000 connection.
With suggested retail prices in the US$3,000 range, both the Garmin and Lowrance product target the upper end of the premium market.