Underwater spoiler to be shown for the first time at Monaco next week
Hull Vane BV of the Netherlands and Naiad Dynamics, the US maker of marine motion control systems, have jointly developed an "actively controlled" version of the static Hull Vane that the Dutch company launched in 2014.
The underwater spoiler below the transom improves the performance and comfort of medium-speed displacement yachts and ships. To date, 21 static wings have been installed and 20 more are on order.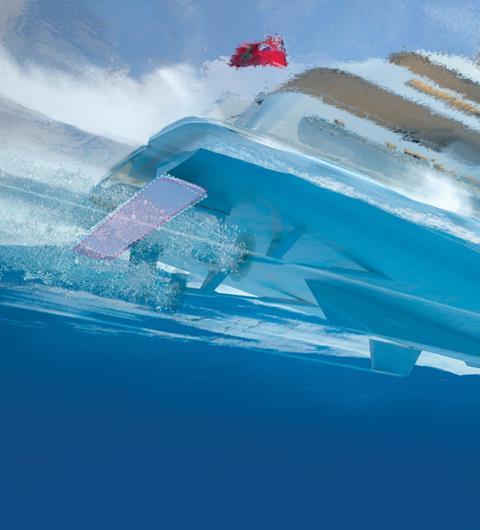 News of a "dynamic" Hull Vane – whose angle of attack is set by computer – comes two weeks after the launch of a fixed, semi-custom Hull Vane for recreational yachts of 10 to 20m.
The Dynamic Hull Vane, to be shown at the Monaco Yacht Show, targets relatively fast vessels with significant displacement such as superyachts and passenger, naval and offshore supply vessels. It responds to market demand for more pitch reduction than a static wing delivers. That brought Hull Vane to Naiad Dynamics of Great Neck, NY.
Hull Vane Sales Director Bruno Bouckaert says CFD simulations show pitching can be cut by 20-40% with an active Hull Vane, double the rate in a static one. This is important as pitching complicates chopper landings on, and tender launches from, a superyacht.
If turned off, the Dynamic Hull Vane renders the benefits of a static wing: more speed and range, less wave making and a quieter vessel. Turned on in rough seas, "the ship feels as if it has active suspension. Less pitching, less vertical acceleration and less slamming," says Bouckaert.
Naiad Maritime Group CEO John Venables says the linkup with Hull Vane BV weds the latter's "hydrodynamic expertise with the hydraulic, mechanical and control system expertise of Naiad Dynamics."
Naiad has to date delivered 14,000+ stabilization systems in the luxury yacht, commercial and military ship markets, including active T-foils. It makes the Dynamic Hull Vane's moving parts and digital control system and provides global support.
Bouckaert says Hull Vane BV, a unit of Van Oossanen Naval Architects, has application discussions with superyacht builders.