Installing audio systems in smaller boats has always represented a challenge for stereo manufacturers. In a perfect world, bass speakers mount near the boat's floorboards where their low frequencies can flood the cockpit, while mid-range and tweeter speakers should mount at ear level where their higher frequencies are easier to hear. But that's a tough assignment when installing a stereo in a small runabout with comparatively low freeboard and no mounting surfaces above waist-level.
Gloversville, New York-based marine windshield manufacturer Taylor Made Systems displayed a novel approach to answering this problem at IBEX, with the company's all-new Audio Windshield.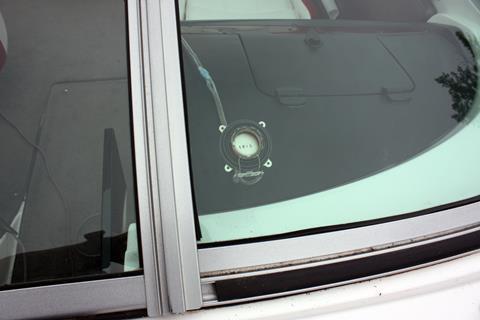 Using tactile transducers mounted directly on the glass and concealed with a discreet cover, Taylor Made turns the entire windshield into an effective speaker that works in concert with traditional speakers mounted lower in the boat, or all on its own. "Modern exciters and bass shakers are found in home theatre systems, amusement park rides, military equipment, cell phones and automobiles," says Tayor Made president of fabric systems, Don Zirkelbach. "When an audio transducer is introduced to a surface, it transfers vibrations to that surface, which then vibrates the surrounding air, creating sound. It turns out a boat windshield is an ideal surface for this, becoming a giant transparent speaker."
Zirkelbach says the technology can be applied to windshields of almost any size and shape, from simple center consoles to large expansive yachts.