New EOS STV 2204-i offers powerful functionality with an attractive interface panel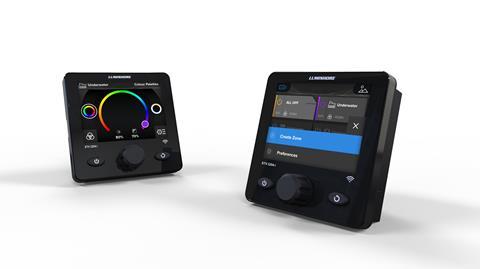 UK-based LED lighting specialist Lumishore has released a new glass bridge touchscreen and rotary dial display that offers powerful functionality with an attractive interface panel.
The EOS STV 2204-i allows boat owners to achieve unrivalled levels of control of their Lumishore EOS Series underwater lighting systems. The Lumi-Link display features a simple-to-use palette wheel for colour selection, horizontal slide bar for quick adjustments to lighting intensity, control of lighting across multiple zones with optional presets, and the ability to choose from pre-programmed effect modes like strobe, sweep or cycle and 'Sound-to-Light', which syncs music and lighting for the ultimate party accessory.
With built-in WiFi, the lights can also be activated and controlled via Apple, Android, or any other device with a web browser.
"Not only do we focus on the quality of our LED lighting, a great deal of our research and development goes into offering ease of use of these systems," says Lumishore CEO Eifrion Evans. "Our recently released Lumi-Link Command Center lets users control their lights directly from any compatible MFD and/or this new dedicated Lumishore display. The EOS STV 2204-i is intuitive and the perfect complement to any glass bridge helm station."
Measuring 3.5in (89mm), the EOS STV 2204-i is simple to navigate, with easy-to-understand icons. Installation requires just a simple connection between the Lumi-Link Command Center and the STV 2204-i display. A single plug-and-play cable creates a centralised control platform for the entire vessel, reducing helm clutter.
The EOS STV 2204-i is compatible with EOS Series Thru-Hull (THX), Interchangeable Thru-Hull (TIX) and Surface Mount (SMX153 only) models.