Tohatsu names new distributor for Germany; introduces new outboards at Düsseldorf
Propulsion specialist MARX took over distribution of Tohatsu outboards for Germany from Volvo Penta at the start of the new year and hosted the premiere of two of the engine makers new models at Boot Düsseldorf this week.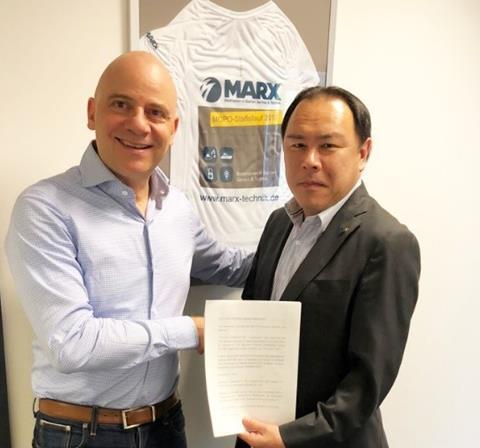 "Tohatsu outboards are an excellent fit with our premium product portfolio" said Robert Marx, owner and general manager of MARX. "They impress with reliability, innovative technology and high quality," he added. Marx confirmed that his company would continue the same five-year limited warranty on Tohatsu outboards which Volvo Penta extended.
Founded in 1905, MARX has been active in marine propulsion solutions for more than 50 years. The company's marine business has a logistics center in Hamburg Allermöhe with an inventory of more than 10,000 spare parts and a marine workshop. In total, MARX employs 55 people in Hamburg and Bremen. Tohatsu sales in Germany will continue to be made through existing service partners.
The newly unveiled Tohatsu MFS 60, originally designed for commercial shipping, continues innovations found on the MFS40/50 models and is being promoted as one of the lightest and lowest emission engines in its class, with a slimmer silhouette. The large steering angle (on models with a tiller) is designed to enhance maneuverability. The engine also features variable idle control targeted to anglers, and is offered in Tohatsu's Aqua Marine Blue and Beluga White colours.
The Tohatsu BFT 250 PS outboard engine was also shown for the first time in Düsseldorf, featuring a wider, flatter torque distribution and more even power over the entire speed range – also with a slimmer exterior and high corrosion resistance.
The Tohatsu MFT and BFT four-stroke models ranges from 2.5 hp to 250 hp. All Tohatsu four-stroke engines meet EU and EPA exhaust emission regulations as well as the requirements of the ultra-low emission level of California's CARB standards system.
Tohatsu began producing outboards in 1956, forming Tohatsu Marine Corporation (TMC) in 1998 as a joint venture with Brunswick Corporation. A year ago, Tohatsu celebrated production of 4 million outboards at its Japan-based manufacturing facility, which is also said to be the largest outboard facility in the world. The company sells its outboards in more than 120 countries and employs more than 500 people.