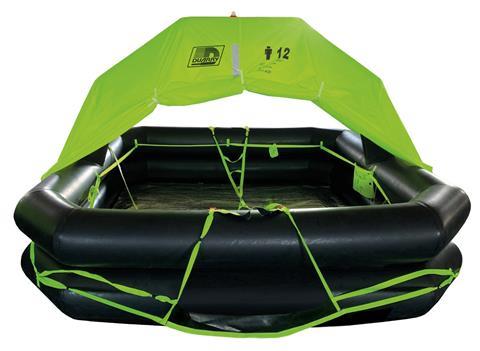 Marine Components International (MCI) is set to stage the UK launch of the latest range of Duarry Dynamic ISO9650 liferafts for the yacht and motorboat sectors.
The Poole, Dorset-based firm was made the exclusive UK distributor of Spanish-owned Duarry late last year and managing director Andy Scott said interest is already strong for the product.
"We are delighted to receive our first consignment of Duarry's Dynamic ISO9650 liferafts ready for the UK market," he says. "For MCI customers, the quality and pedigree Duarry offers, as one of the most established players in the market, is paramount when selecting a potentially life-saving piece of equipment."
MCI will be stocking the latest models of Duarry's ISO9650 Leisure range for four, six, eight, 10 and 12 people as well as offering the Compact SOLAS range of liferafts, which has capacity for six, eight, 10 and 12.
"All these models are available now, and we are actively looking to appoint dealers throughout the UK," says Scott. "This dealer network will ensure customers have quick access to these impressively lightweight and compact products."
Scott said the streamlined weight of the Duarry Dynamic ISO9650 gives it a competitive edge in market as the smallest and lightest approved raft in Britain currently available, with the four-person valise packed liferaft measuring 65 x 40 x 22 and weighing just 28kg.
"Weight is always an issue with liferafts, which may have to be manhandled over the side in very difficult conditions, and the new Duarry ISO9650 Dynamic series is lighter and smaller than equivalent ISO models on the market," he says. "Both the container and valise versions are flat-packed, with the valise as portable as a holdall. This makes them ideal for users who are pushed for space, or who want to lighten the vessel as much as possible."
Typical users include racing yachts or short-handed blue water cruisers, as well as small commercial vessels, he adds.
According to Scott, the four-person ISO9650 valise-packed liferaft is 15% lighter than its nearest lightweight rival, whereas the six-person container-housed model is 30% smaller than standard versions. The Duarry Dynamic ISO9650 Leisure liferafts are Type 1 approved and come as standard with a 24-hour pack but can also be offered with SOLAS 'B' packs if required.
By contrast, Scott says the Compact SOLAS liferafts, which range from six to 12 persons, are all supplied in flat containers that offer one of the smallest footprints on the market.
"This Compact SOLAS range of liferafts are particularly suitable for large charter yachts that have to comply with SOLAS regulations or commercial vessels whose design puts space at a premium," he says. "The containers can also follow the current trend for colour co-ordination and can be supplied in custom colours that blend seamlessly with a yacht's overall paint scheme."
The new deal with Duarry follows an exciting period for MCI. The company recently announced it had been awarded the global rights to distribute BSB's range of A60 fire dampers, which are a mandatory requirement on all SOLAS-compliant vessels over 500 gross tonnes.
MCI also announced a new deal with Daniamant of Denmark to distribute the British-designed EchoPilot, Forward-Looking 3D sonar systems. The deal follows a number of new orders in superyacht and motorboat sectors across the UK and Europe, including with Princess Yachts.