Debut of new 5hp propane model targets sailing, camping markets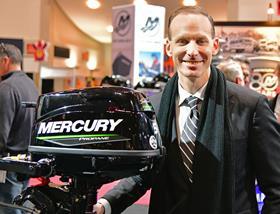 As part of its 80th anniversary celebrations, Mercury Marine unveiled an all-new 5hp propane-powered outboard at the Toronto International Boat Show on Friday evening, marking the company's first venture into the propane outboard market.
"Propane is a clean, energy-efficient power source that is easily transportable," said Mercury Marine senior director, marketing and strategic planning, Adrian Rushforth. "The portability of this engine is just fantastic. The engine weighs less than 60 pounds and a tank of propane weighs less than 20 pounds, so it allows you to access places that you really can't get into with gasoline-powered engines, whether a person is camping, fishing, hunting or just exploring remote waters."
Rushforth notes that the new engine generates 30% lower exhaust emissions than comparable gasoline outboards and is CARB three-star rated. A standard 20-pound (five gallon) propane tank is said to provide up to 10 hours of run time at full throttle.
The new four-stroke engine utilises a 7.5 cubic inch (123cc), single-cylinder powerhead, and is available in both 15-inch and 20-inch shaft lengths. An easy-to-reach shift lever provides F-N-R switching, while six tilt positions including a shallow-water drive setting allow operators to adjust to engine for a variety of applications.
The propane engine will also be offered in Sail Power models intended for use on smaller sailboats. Weighing in at 63 pounds, the propane Sail Power model is offered in a choice of 20-inch or 25-inch shaft lengths and includes additional application-specific features such as reverse-thrust exhaust relief, a high-thrust propeller and an integral four-amp/50-watt alternator for battery charging. Engines are expected to begin shipping in late Q1 or early Q2.