New engine opens additional markets to the performance division of Mercury Marine
Mercury Racing's new 450R comes to market with the best power-to-weight and torque-to-weight ratios of any outboard engine of 400hp or more, making it a candidate for larger, heavier boats, opening additional markets to the performance division of Mercury Marine, and hastening the transition in the US from sterndrive to outboard propulsion.
Based on the same 4.6-liter V8 powerhead used for the naturally aspirated inline six-cylinder 300R models, the additional horsepower comes from Mercury Racing's exclusive 2.4-litre twin-screw supercharger, which provides 40% more torque than the 400R, is over 300 pounds lighter than its nearest competitor, and runs on 89 octane gasoline.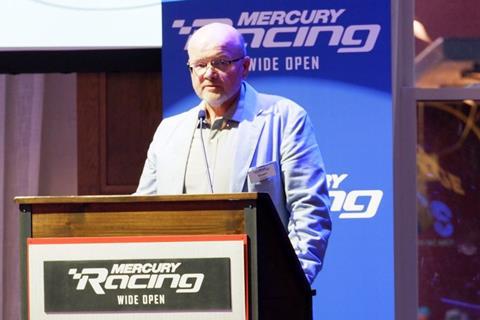 "The torque-to-weight is phenomenal," Mercury Racing general manager Stuart Halley told IBI during an unveiling to the media, boatbuilders and dealers. "It's light-weight, the package is less intrusive to the boat and it's hard to describe how powerful the torque is and what it does to various [boat] applications."
The 450R uses the same slim-line cowl as the 300R and 26in centre-to-centre mounting, making it ideal for multi-engine applications, of which there were plenty at the event.
For example, the 59ft, 40,000-pound Cigarette Tirana, with six 450R outboards, 580 gallons of fuel and 13 people aboard reached a top speed of 79mph. Accelerating from 4600rpm, passengers were literally pushed back in their seats from the torque Halley was boasting of. At a 55mph cruising speed, the six outboards were burning 100 gallons of fuel per hour.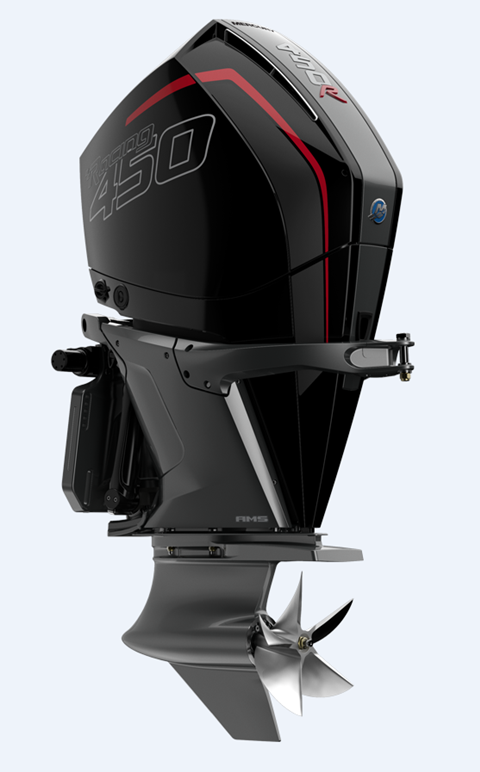 A closed loop fuel system allows fuel economy to be maximised, according to Mercury Racing marketing director Steve Miller, who told IBI that the larger displacement 450R burns about six gallons per hour less than the 300R.
The transition from sterndrive to outboard power may be epitomised by Formula Boats, known largely over the years for its sterndrive-powered line of sport cruisers, fast tech performance boats and smaller bowriders. Three years ago, Formula introduced the 430 SSC specifically to take advantage of the newer, more powerful outboards.
President Scott Porter told IBI that the company considered offering a sterndrive version, but decided that the outboard design offered up a roomier layout for the boat. "To be able to cruise in the mid-40s and top out knocking on 70 is really something," Porter said. "You're just not going to do that with a boat this size with more traditional power."
Porter said that today, Formula is producing 50% of its boats with outboard power starting at 31ft and larger and including some models that are offered with a sterndrive option. Porter said that with the 2019 model year, the Fast Tech model line – once a dominant force in offshore boat racing – has been discontinued, as the market continues to trend toward larger, more comfortable, versatile outboard-powered boats.
With a manufacturer's suggested retail price of US$53,000 to US$64,000, the Mercury Racing 450R isn't for everyone, but, Halley said, it is very much for those who are performance-minded.
"The primitive individuals that we are, we just love that sensation [of acceleration], from a boat to a car to an airplane; anything performance [oriented], and that's our customer. They love exhilaration, they love the adrenaline and this engine will provide that."