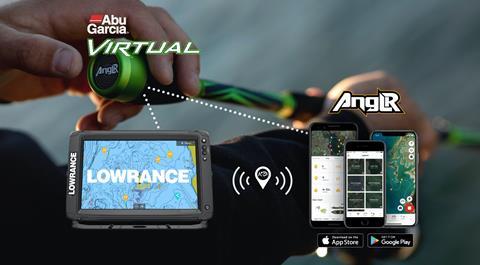 ANGLR, Lowrance and Abu Garcia have teamed up to create a new way to plan, record and relive fishing adventures – all while using precise data to catch more fish.
A new app from ANGLR acts as a bridge between the new Abu Garcia Virtual Rod and compatible Lowrance chartplotters/fishfinders. This new functionality lets users privately capture key fishing data with a click of a button, without the need to stop fishing to access navigation displays, logbooks or mobile devices.
The Abu Garcia Virtual Rod includes a Bluetooth device, powered by ANGLR, in the rod butt that fully integrates with the ANGLR smartphone app. One click from the rod marks catch locations along with coordinates, date, time, weather, water and other key details; two clicks marks a waypoint at the user's current location; and a button press and hold automatically time stamps and records users' gear changes.
Recorded trips, weather and water trends, statistics, photos, coordinates and more are then stored and accessed through the ANGLR user's profile in a private logbook.
The ANGLR app can simultaneously transfer waypoints bi-directionally onto compatible Lowrance multifunction displays. The wireless sync also allows data sharing from Lowrance sensors back to the app, providing greater precision by importing precise depth, water temperature, real-time GPS routes and other data to be added to the user's logbook.
"This innovative partnership is the perfect complement of three experts in our respective fields," says Navico CEO Knut Frostad. "Together, we are giving anglers the easiest and most streamlined way to drop waypoints on their charts and save vital details to be analysed later."
Compatible Lowrance fishfinders include the HDS Live and Elite Ti2, as well as legacy fishfinders like HDS Carbon, HDS Gen 3 and Elite Ti.
The Abu Garcia Virtual Rod series consists of 12 total conventional and spinning rods ranging from 6.6ft Medium Fast spinning to 7.6ft Heavy Fast conventional to cover most bass angling techniques.