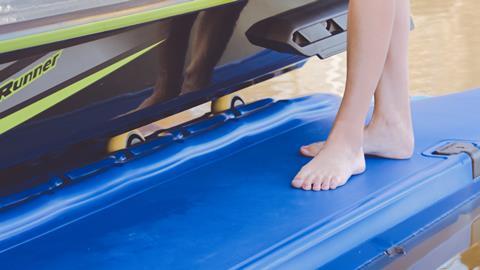 The HydroPort Epic PWC docking platform from HydroHoist Boat Lifts has a wider walkway than previous models and a built-in, anti-slip surface for easier access around a craft.
The additional walkway footprint also allows operators to safely clean and cover their PWC after use without having to balance on smaller walkways.
For simple maintenance, the HydroPort Epic is equipped with enhanced drainage to remove any debris and water from the platform. A redesigned rear entry allows for a smoother loading and launching process.
"HydroHoist is committed to supporting innovation in the boating industry," says Mick Webber, CEO of HydroHoist LLC. "We continuously keep up with the latest trends in both boat and PWC development. As these products continue to get larger, HydroHoist is growing, enhancing and redesigning our product lines to accommodate the larger capacities while maintaining our core quality, craftsmanship and performance that we build into every product."
The PWC platform can connect with the existing HydroPort Extreme model so that individuals and marinas can continue to grow their HydroPort fleet. The Epic model is available in blue, grey and tan, and weighs 430 lbs.