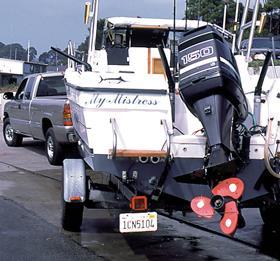 Davis Instruments' patented Prop Sox is billed as an inexpensive set of three slip-on covers that protect most sizes of sterndrive and outboard blades from road debris when towing – and people's legs if accidentally walked into.
Prop Sox are made from durable, bright orange moulded plastic and have reflector hot-dots for maximum visibility that help prevent rear-end vehicular accidents. When children are around, they safeguard curious fingers from sharp blade edges – especially if trying to spin the propeller.
Installing Prop Sox is easy and fast. Slipped over each blade with the reflector facing out, they're secured with a single cinch strap. Boat owners with two-blade propellers use the extra as a spare.