The new assisted docking system – featuring five sensor cameras to create a virtual bumper – is said to be an industry first; see a video demo below
Raymarine introduced its new DockSense assisted docking system at an exclusive press event at boot Düsseldorf today. Representatives from Prestige Yachts, a Groupe Beneteau brand and one of Raymarine's long-standing OEM partners, and selected as the first boatbuilder to demonstrate the new technology in action.
Described as the marine industry's first intelligent object recognition and motion sensing assisted docking solution for recreational boating, DockSense automates and simplifies the boat docking experience for boat owners and captains. The system uses FLIR machine vision camera technology and video analytics to integrate intelligence gathered from surrounding imagery with the vessel's propulsion and steering system to assist boat owners in tight quarter docking manoeuvring.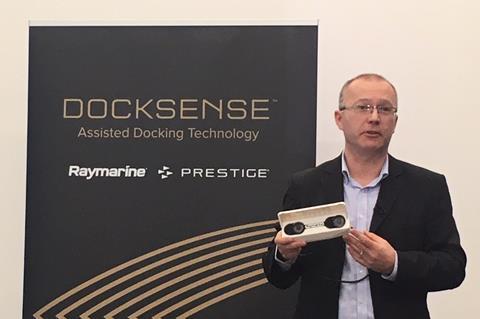 "I'm pleased to announce Raymarine's Docksense, the first true docking system in the industry," Chris Jones from Raymarine's product management group told a gathering of press. "This really is an industry first."
The DockSense system is designed to augment a captain's boat handling skills using the system's Virtual Bumper zone technology around the vessel. Should an object like a piling or another vessel encounter the Virtual Bumper, DockSense automatically introduces corrective steering and throttle commands to avoid the object and assist the captain in guiding the vessel to the dock.
Erik Stromberg, Prestige product marketing director, described docking as an age-old problem. "Everyone has a horror story about docking," he said. "My docking abilities are proportionate to the amount of people who are watching at any given time. It's something that remains stressful.
"When we look at the trends in the market today, marinas are not getting any bigger but the boats are," he explains. "Boats are also becoming easier to use and we want to bring technology to the market that will give people the ability to easily use their boats, park their boats and manoeuvre their boats more easily.
"The Raymarine DockSense solution will give future Prestige owners the confidence to dock safely and aligns with our vision to simplify the boating experience and make boating accessible to a much larger audience," he adds.
FLIR is previewing Raymarine DockSense technology throughout boot Düsseldorf on both the Raymarine stand (Hall 11, Stand A42) and the Prestige stand (Hall 6, Stand D57).
DockSense will also be demonstrated on a Prestige 460 motoryacht during the Miami Boat Show next month.
Click on the video below to see DockSense in action.