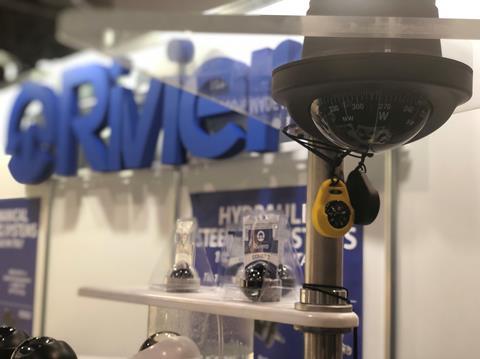 Italian compass manufacturer Riviera Genova has launched Astra, a magnetic compass that was specifically designed for ceiling installation.
The Astra compass helps shipyards in their search for space optimisation on a boat's console – an area increasingly taken over by monitors, indicators and electronic instruments of all kinds. The goal is to exploit unused surfaces or, in this case, the ceiling of the boat facing the bridge.
"The project was developed starting from the Riviera compasses with consolidated functioning and making improvements to refine the product. For example, the dual axis system of the rose facilitates the reading without the need of balancing for the different magnetic areas of the earth," says the company.
"The internal mechanism is based on a double cardan system that eliminates the rolling and pitching movements of the boat so that they do not represent an obstacle to the correct functioning of the compass."
The materials used are the result of Riviera Genova's 60 years' experience in the moulding of plastic materials for the nautical and automotive sectors. The transparent cover is made of polycarbonate, making it resistant to scratches and shocks, and an anti-UV treatment protects it from the effects of sun exposure.
The external parts are made of ABS, a material of exceptional mechanical and resistance qualities. It is also resistant to solvents, alcohol and oils and is treated to resist marine atmospheric agents.