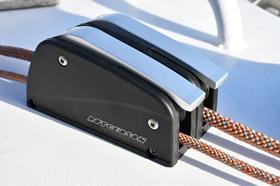 Two of Rutgerson's most popular rope clutches are now available in new versions for smaller line diameters without compromising on either hold or strength.
The RC75 and RC120 have been optimised for thinner lines but with the same high working load as the original – 750kg for the smaller model and 1200kg for the larger.
Both clutches are fitted with the same integrated sheave as the standard version. They also have the same mounting plate, which facilitates installation when upgrading.
The RC75 is optimised for lines from 4-8mm compared to 8-12mm on the standard version, while the RC120 is adapted for 8-12mm lines versus 10-16mm. Both models are available as single, double and triple clutches. The RC75 can also be ordered as quintuple.