Opting for a global launch using a virtual platform, Norwegian-based Simrad has unveiled its next generation of navigation electronics with the all-new, ultra user-friendly Simrad NSX, a range of Multi-Function Displays (MFDs) available in 7in, 9in and 12in touch-screen versions. IBI reports on the launch presentation.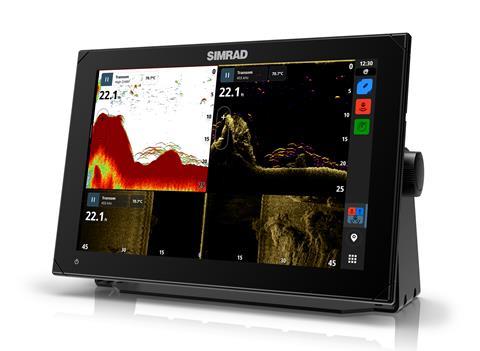 What sets this new equipment apart is that it was designed 'from the bottom up' to not only harness the very latest in highly detailed C-Map charts, but also to be as intuitive to use as a smart phone. In fact, the NSX is so full of new features that - unusually - it is not backwards compatible. This was a conscious decision by the designers. The sheer complexity and detail of the latest C-Map cartography, they explained, needs the power of the new NSX operating system to fully explore its potential.
During the launch presentation, which combined promotional videos meshed with live commentary, the development team emphasised that key to the new operating system is the extensive use of 'set-up wizards.' These are similar to the ones we all use when installing new software on our computers. Boaters use standard finger-swipes, pinches and taps to customise the NSX for their type of boating.
"A bottom-up design that's as intuitive as a smart phone."
"NSX looks and works like products you use every day, such as your iPhone, car touch screen, or smart TV," said Jarred Clayton, Simrad's Chief Technical Officer. "You already know how to use these without having to learn. There's a simplicity to it and it's approachable and inviting for the user."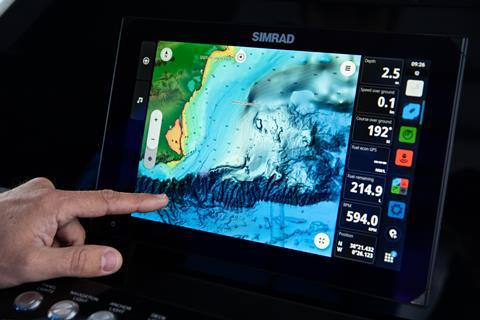 With the basic premise of making boating more enjoyable, the NSX system uses specific C-Map cartography to show vast amounts of data in graphic form. The cartography is available in two basic types - Discover X and Reveal X, both exclusive to the NSX. Discover X appears aimed more at the general user, and offers uncluttered data in either day or night mode, with a smooth connection to other devices via the Simrad Companion App.
"You can plan your entire cruise on your tablet at home from your favourite armchair, for example, and then transfer the finished route to the NSX, ready to go," describe the architects of the Companion App."
For boaters who need more detail, such as fishermen, divers or even treasure hunters, C-Map Reveal X gives a dramatic 3D representation of the seabed in shaded relief, with the ability to overlay satellite imagery of local geography with various shades of transparency. "You can see the entire area as a series of informative layers, with the ability to navigate around it with a few familiar finger commands."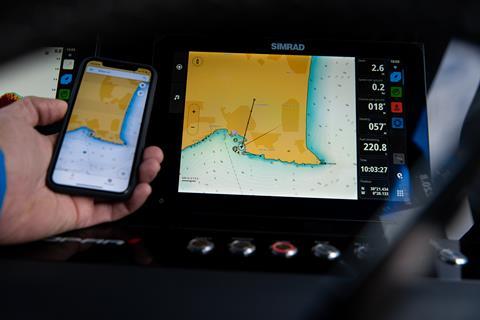 The NSX is also compatible with third party instruments, such as radar, sonar and AIS, and a 12-month subscription will keep the charts fully up to date. The screen itself has been made as borderless as possible, and is operable in a spray-lashed open cockpit.
"A common story we hear is that many boaters don't use - or feel comfortable with - a lot of the functionality available," said Mike Fargo, Executive Vice President of Simrad at Navico. "When you start using NSX, first by setting it up, getting comfortable using it and then getting the functionality you want for your boat - you'll find it is super easy. NSX guides you along. We set out to make this smooth and fun. I'm confident that more NSX users will feel comfortable with more of the functionality than ever before, and that will lead to better boating adventures – and that I really love."
Simrad reports it has overcome some of the global supply issues affecting the electronics industry and will be shipping the first units towards the end of March.
>> Read more detail about Simrad's and C-MAP's latest technology advances.
At a glance:
Touch screen with minimal borders. Available in 7in, 9in and 12in versions.
Simple set up with dedicated wizards, with choice of operating levels - basic or advanced.
Simrad technology for modern networking, including plug-in equipment.
Extensive third-party app integration.
Can be edited and customised with drag-and-drop commands
Hi-resolution bathymetry via C-Map cartography.
Enhanced day and night operation modes for bright sunshine or pitch black nights
Simrad's 'fastest auto-routing to date', with improved route planning.
Easy software updates via the Simrad app.
External links
We are not responsible for the content of external sites