New ARX70 ANT Wireless Stereo Remote one of a number of European debuts from the Kiwi audio specialists at METSTRADE
Fusion's new easy-to-install ARX70 ANT Wireless Stereo Remote is making its European debut at METSTRADE next week, following its first unveiling in the US at the Ft Lauderdale earlier this month. The ARX70 gives users the ability to control their FUSION ANT-enabled marine entertainment system from anywhere on the boat. Its compact, low profile design and IPX7 water resistant design, means it can be installed wherever is most convenient without cutting holes, running wires or tools required. It also comes with a 1-year battery life.
Fusion's Multi-Zone technology within its stereos allows you to create multiple independent audio zones, so different music can be played in different parts of the vessel. The ARX70 can interface with compatible Fusion stereos and act as a media controller for a single zone at one time, with the ability to cycle through all independent audio zones for global control. Multiple ARX remotes can be installed across the boat with one or more in each zone giving more control options on board.
Also making some noise at METSTRADE are Fusion's EL Series of shallow-mount marine speakers that were also given their US launch at Ft Lauderdale along with the Panel-Stereo Outdoor – a new weather-proof version of Fusion's all-in-one marine entertainment system.
"We took the same top-quality components and compact form-factor and encased them in a weather-proof package"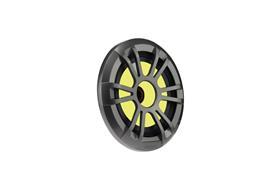 The EL Series comes in two grille styles - Classic and Sports - have been specifically designed to provide the ultimate in cone protection while complementing the vessel look. The Sports style speakers feature a multi-colour LED lighting option with seven different colours to energize the on-board experience.
Meanwhile the Panel-Stereo is described by Fusion as the ultimate all-weather audio entertainment solution. Designed for surface mounting with the optional 43mm surface mounting spacer, Panel-Stereo can be installed directly onto any flat surface with no mounting cut-out required. Minimal depth also makes it ideal for installation in shallow wall cavities, with only a single cut-out, where standard speakers will not fit. Both flush and flat options are available with a premium finish.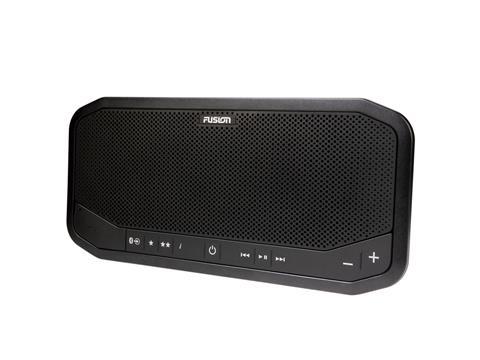 "When we launched the Panel-Stereo in May of this year it was very well received," said Chris Baird, managing director of FUSION Entertainment. "We took the same top-quality components and compact form-factor and encased them in a weather-proof package. Now the incredibly versatile Panel-Stereo can be installed in outdoor and open-air environments adding even more options for our customers."
It's been a busy year for the Kiwi marine audio specialists. These latest launches follow the unveiling of the second-generation of Signature Series speakers in February, while three months later it brought to market its new touchscreen Apollo Series (the Apollo RA770 and Apollo SRX400) and its Panel Stereo. In August it announced its Apple Airplay and updated its Fusion-link app.