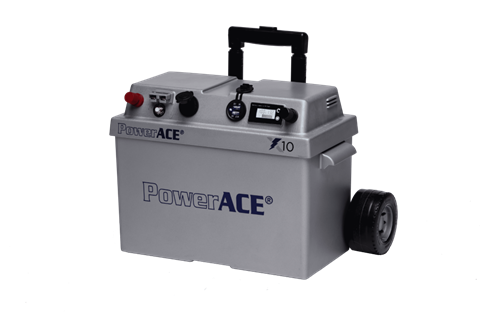 Vadac BV, a Dutch maker of technical accessories for campers and boaters, has announced the world's "first truly portable battery box".
With electric outboards gaining popularity, Vadac set out to resolve the problem of schlepping heavy batteries to and from the boat.
Vadac sales and marketing director Bob Sonntag says the new PowerAce X10 portable battery box comes in a polypropylene case with a telescopic handle, internal cabling, a battery capacity meter, an automatic fuse to multiple 12V outlets, a dual USB socket and a so-called 'Anderson connector' (a plug for electric outboards).
Putting the battery box on wheels significantly improves the user friendliness. "We have shown the first prototypes at major boat shows already. The initial market reaction is positive," says Sonntag.
The X10 will retail at €89.95 (US$99) and can carry up to 35kg (77lbs).
Vadac has worked with leaders in the global marine accessories market, including Yamaha and Suzuki. Over the years, Sonntag says, at least 100,000 outboard trolleys have been sold worldwide.
"We are the original designer of the first foldable, outboard motor trolley introduced in 2007," he adds. "It was designed to transport outboard engines, do maintenance on them or simply store them out of the way."
That OdeSea-branded trolley took the groaning out of transporting outboards and that led to the PowerAce X10 battery box. It similarly takes a load-off as a battery can easily weigh 25kg (55lbs).
The X10 has a patented design. Vadac is planning to also sell it in the USA. Vadac has also redesigned its outboard motor trolley. The new OdeSea FS-25 is more user-friendly and 50% lighter than the original. The FS25 will retail at €119,95 ($129) and is suitable for all outboards up to 25hp.