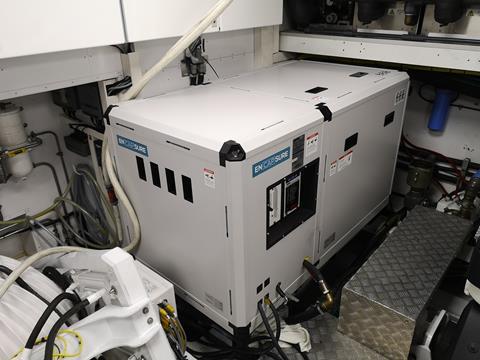 Van Cappellen Sound Solutions, a marine acoustics specialist from the Netherlands, has launched a new sound enclosure that can incorporate any specific requirement.
Fitted with purposely selected sound absorption materials, the enCAPsure sound enclosure has excellent sound absorption characteristics and offers increased overall noise reduction whilst meeting the test criteria of some of the highest fire-resistance testing standards, including EN 13501-1 B-s1, d0.
A key feature of the enCAPsure is the unique patented closure system which ensures tight fit closure along the perimeter of the panels.
The 22mm standard enCAPsure panels are tested at Van Cappellen's in-house test laboratory in the Netherlands in order to fine tune the air-borne noise reduction. When the standard panels do not meet requirements, Van Cappellen can design panels with specific acoustic requirements and conduct test procedures at low cost.
Acoustic scanning hardware enables the company to detect leaks, panel resonances and performance dips.