News from the world's largest marine trade show delivered direct to your inbox from IBI (International Boat Industry) Magazine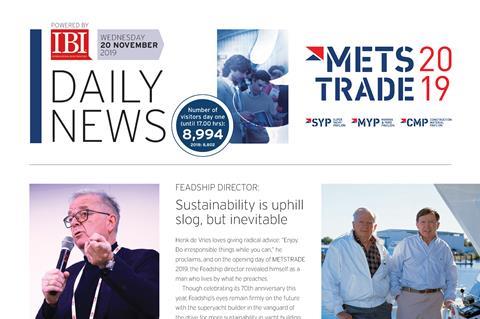 >> Click here to download a full copy of today's METSTRADE newsletter with coverage of:
The 2019 DAME Award winners
Words of wisdom from keynote speaker Henk de Vries of Feadship
This year's Boat Builder Award winners, including the 2019 Boat Builder Lifetime Achievement recipients
And the full line-up of events for Wednesday
IBI has been tracking and reporting on the world's leisure marine market with unrivalled insight and intelligence for more than 50 years. It remains the only business magazine and website to investigate and analyse industry developments in established and emerging leisure boating markets across the globe. The magazine and its related daily email newsletter, ibinews.com, are received by over 20,000 professionals in the industry in more than 120 countries.
>> To personally receive youe free copy of IBI in print or digital format, register here.
Downloads
Click link to download and view any attached files
Other | PDF, Size 11.36 mb