The Export Excellence Award, conceived and sponsored by International Boat Industry (IBI) magazine for American exporters, will once again take place this year at the International BoatBuilders' Exhibition & Conference (IBEX) in Tampa in October.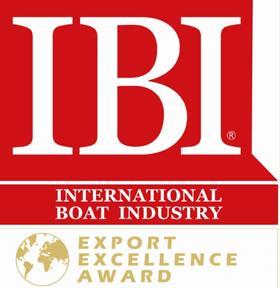 For the second year running the award, designed to recognise excellence in the realm of export sales by US boatbuilders or marine equipment manufacturers, or distributors and manufactures representatives of US products, will be presented by IBI editor Ed Slack at the opening day IBEX Industry Breakfast to be held at the Tampa Marriott Waterside hotel on Tuesday the 1st of October.
Last year it was Gator Guards that picked up the honours with the judges recognising the small manufacturer's Herculean efforts on the ground to earn the trust of its network of distributors, and its application and resolve in tapping into a number of government-sponsored export programmes. Further 2018 highlights included entries from Mercury with its dealer follow-up programmes in Australia, NZ and the Pacific, the development of Correct Craft's worldwide dealer base; Dometic's courting of new light commercial markets in South America, and Seakeeper's level of investment in growing its stabiliser business in Europe.
"Winning the inaugural IBI Export Award has validated our international efforts over the past 5 years by displaying that a small family company can be recognized as a leading global innovator," says Gator Guards' President CEO, Sue Smith. "With this incredible exposure the award has boosted our credibility and recognition to the international marketplace, increased our export sales by 20% and is netting us new distribution partners."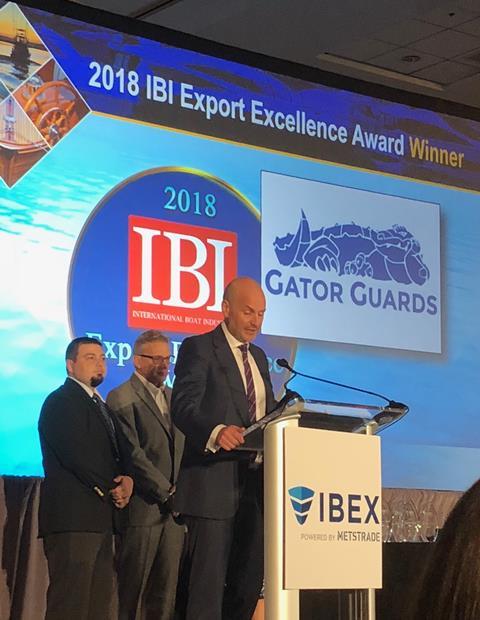 As well as the Export Excellence Award trophy, this year's winner will also benefit from editorial coverage in IBI magazine and its affiliate website IBInews.com. In addition, they will receive two free half page advertisements in IBI magazine and two free annual subscriptions to the IBI Plus international market information website and to the IBI Daily Industry newsletter, representing a combined value in excess of $10,000. The winner will also be rewarded with VIP status and benefits for two people during 2019 at the IBEX show in Tampa and at the METSTRADE show in Amsterdam.
"Exporting is good for a company's bottom line! Last year, our industry exported over $2.1 billion in US boats and engines," said Julie Balzano, Export Development Director at the National Marine Manufacturers Association (NMMA), which has backed the Export Excellence Award since its inception. "But, even as we are currently benefiting from a strong US economy, a robust domestic boating market and dealing with a challenging trade climate, that will change. I say 'kudos' to those companies who have a strategy in place for navigating the next economic and seasonal slowdown. Everything is cyclical and those who will fair best maintain a healthy balance between domestic and international sales. "
The judging panel for 2019 remains the same as last year, comprising Tom Douglass, former Vice President of Sales and Marketing with SeaStar Solutions, now retired and a past member of the METSTRADE exhibition committee; Rebecca Torres, retired member of the Diplomatic Corps with the US Foreign Commercial Service, with responsibility for developing strategies to optimise US exports; and chair of the panel, Ed Slack, IBI's editor of the past 16 years. They will be evaluating the entries based on a case study describing export strategies such as market research, product modification when required, creation of trading partnerships, financing mechanisms, solutions to trade barriers, use of federal or state promotional services, overcoming cultural differences, etc. They will also take into account the growth in overseas sales achieved between 2017 and 2018.
The award is open to all members of the NMMA as well as to exhibitors at IBEX and companies are encouraged to self-nominate.
Please follow this link for further details about the criteria and direct online entry for the award. Entries should be submitted by August 9 at the latest and the winner will be notified by September 12.
The winning company will be authorised to display the award logo on its communications channels, literature and web site and will be presented with a finely-crafted trophy for display in its offices.